Programs
Our Programs & Classes


Students and enthusiasts of martial arts have many reasons for their interest in the martial arts. Some are drawn to the physical fitness and weight-loss aspects of training. Others seek to add discipline and self control to their lives. While still others are concerned about safety and self-defense.
Whether you are interested in our programs for mental or physical well being, DRAGON FORCE KOREAN MARTIAL ARTS offers a number of programs that will fit your developmental needs and your busy schedule as well.

LITTLE DRAGONS AGES 3-6
UFAS LITTLE DRAGONS PROGRAM IS A FUN AND EXCITING WAY YOUR LITTLE ONE CAN BEGIN HIS OR HER JOURNEY IN MARTIAL ARTS AND CHARACTER BUILDING.


MARTIAL ARTS YOUTH PROGRAM AGES 7-11
UFAS YOUTH PROGRAM IS DESIGNED TO CREATE A STUDENT OF STRONG POSITIVE CHARACTER AND DISCIPLINE. WE PREPARE OUR YOUTHS FOR SUCCESS!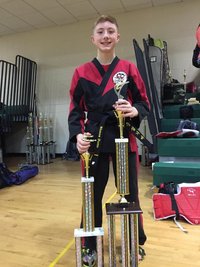 MARTIAL ARTS PROGRAM 12 and up
THIS PROGRAM WILL CREATE A STRONGER,CONFIDENT, AND DISCIPLINED INDIVIDUAL. NO MATTER THE AGE OR ABILITY. STUDENTS TRULY DISCOVER THERE IS MORE TO THEM THAN THEY EVER IMAGINED.


Black Belt Class
Black Belt Class is one of many programs offered at DRAGON FORCE KOREAN MARTIAL ARTS. Call us at 610-800-4832 to get more information about this and other programs we offer.

DRAGON F.I.R.E. SELF DEFENSE SYSTEM
This program is an adult self defense based program combining philosophies of different arts such as boxing, Wing Chun, Southern Praying Mantis, Tai Chi, Hapkido, and Tang Soo Do. Learn self defense while getting fit. Faith in yourself Instinct to defend Reacting to an attack Execute techniques for weakening opponents

Please Contact Us if you have any questions about our programs or would like to know about other programs that may not be listed here.